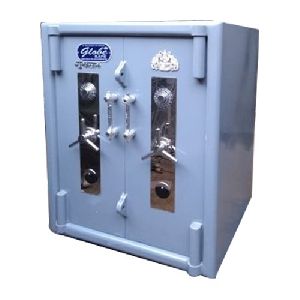 No matter what would be the place it is, whether it's a bank, any office or your home, in recent times, it's important to keep all your valuable belongings in a safe and protected place. We all are familiar with bank accounts where we can deposit our money to keep them safe. But it's not only the money that requires safety and protection. There are so many other valuable belongings of us that also are needed to be kept with maximum security and protection.
Though there are numerous options that can offer immense safety to your valuable belongings, safety lockers can be the best accurate option. Whether it's a residential possession, a commercial possession, a corporate office or any other private or Government bank and finance office, the importance and necessity of the safety lockers are inevitable.
Safety lockers not only offer safety and protection of your valuable belongings but also deliver you a feeling of relief and security. Different types of safety lockers are utilised to keep the precious things of different individuals. Here in the following segment of this article, we would discuss what are safety lockers, different types of safety lockers and their miscellaneous advantages.
What is The Safety Locker?
The safety lockers or the safe-deposit boxes are nothing but small to moderate-sized storage cabins that are available either separately for various commercial and official uses or jointly with a cabinet for private uses. The safety lockers are usually made with strong metal elements and advanced technology to ensure maximum security.
The safety lockers are available in several designs and patterns. They all have different functionalities and purposes. The different types of safety lockers that you can get from any reputable safety locker manufacturer are the following.
Manual lockers.
Fireproof lockers.
Security lockers.
Electronic lockers.
Jewellery lockers.
Gun lockers.
Some famous applications of safety lockers in both Government and private banks, corporate offices, financing organisations and many more.
Merits of The Safety Lockers
As we mentioned earlier, these days, it's crucial to insulate valuable things from getting looted or mislaid. Things like cash, jewellery, land agreements and other items should be kept in properly secure arrangements with absolute awareness. Not only these things, but many other personal belongings also require ultimate attention to avoid any misplacement. Below are the reasons why the safety lockers are in absolute demand.
Security
It is needless to cite that the first merit of the safety lockers is none other than their fultless capacity to provide 100% security. The safety lockers are used on a large scale to provide insurance and security to the place of their installation. Many commercial and corporate office setups purchase them from renowned safety lockers wholesalers to install them and make their arrangements free from any threats.
Protection From Unpredictable Incidents
Accidents or mishaps never arrive with a warning. Thus, it's important to keep all your valuable belongings in a place where they can be kept with maximum efficacy and attention. If any natural calamities like floods or fires occur, the safety of your precious belongings would not be compromised. So they can be protected in any adverse situation.
Technology Driven
Most safety lockers suppliers in India supply safety lockers that are highly technology-driven. Most safety lockers include characteristics that are highly technology-oriented. They are locked with complicated AI codes that are almost inconceivable to crack.
Multi-Dimensional
The safety lockers are clean and can be customised as per your demand. These safety lockers can save both space and time. The utilization of these safety lockers can eliminate the manual assistance of conserving a locker. Not only jewellery and cash, but you can also keep your valuable documents in these lockers.
So, opt for the safety locker for keeping anything that is precious to you. With the utilisation of these lockers, you can eradicate all the uncertainties and impediments to keeping your assets safe.