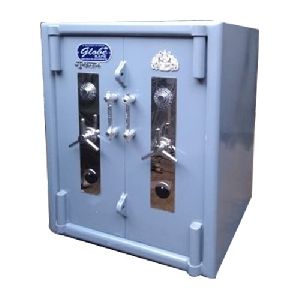 A safe or a locker is a secured box that can be locked. These lockers are used for securing any kind of valuable objects or documents against theft and damage. These safety lockers even protect from fire mishaps.
The safety lockers are generally cuboid in shape, it has a door hinged to them which can be removed for operating the locker. The body and door of the whole structure are made of metal, mainly steel, or plastic by means of blow moulding. The Safety Locker Manufacturers secures the locks of these safety lockers with different forms of combination locks.
Trade and Commerce
Different companies manufacture safety locks with advanced technologies in our country and other parts of the world. These companies claim that the buyer can reliably store all their valuable items within it. These manufacturing companies ensures that the safety lovers they provide are engineered with bodies that are formulated with a combination code as chosen by the buyers.
These companies offer a wide range of safe lockers which are used domestically and in various other commercial places. Safety Locker Manufacturers in India provides protection to valuable legal papers and other items like jewellery and cash and various other important things. The safety that these lockers lead to offers a sheer piece to the owner's mind.
The manufacturing companies claims of producing these safety lockers made of premium quality steel, that protects the locker from any sort of scratches and attacks and are resistant to rust. These lockers are also provided with anti-saw locking bolts. Again, these lockers are provided with holes that are pre-drilled for enabling mounting on the floor, wall or any other hard surfaces permanently for extra protection.
Types of Safety Lockers Produced
Safety Locker Wholesalers produce a number of variety of these lockers with different features installed that makes them applicable for various purposes. The variety of safety lockers are as follows:
Double door safety lockers, comes with two doors that open in vertical halves. These lockers are used in safe deposits of banks, offices and other financial institutions. These lockers can withstand temperatures up to a Celsius reading of 1000 degrees. The design of the groove and tongue prevents any external gas or dust to enter inside. These lockers are operated with keys.
Single Door safety locker made with mild steel weighs about 250 kilograms. They possess a superior spray paint of advanced technology that prevents corrosion, rust and any sort of scratches. These safety lockers are also operated with keys.
Jewellery lockers are made of mild steel and stainless steel and with customised sizes. These lockers can be used not only for storing jewellery but also for other concealable items. They are available in different colours and are resistant to fire.
Single door safety lockers come with one door that opens in swinging motion. This safety locker is made of mild steel and weighs around 65 kilograms. The single door safety lockers are rectangular in shape with plates around the lock and its mechanism that are resistant to drills.
Conclusion
Safety Locker Suppliers in India procure raw materials from vendors who are highly reliable for manufacturing for ensuring quality products. These suppliers can also provide prompt logistic services at the customer's request.